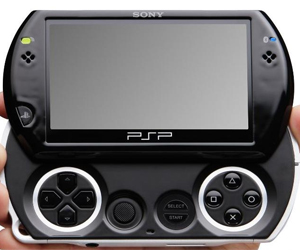 The PSP Go was the worst kept secret of E3, Sony's conference even acknowledged that, even though some details were kept secret.
For one thing, we knew the PSP Go would have a slide out controller for a better "handling", kinda liked the design myself. I want one, just like everyone else. And i'm considering buying it as an entry level PS3 alternative, but the release had issues.
For one thing, it only downloads games. There is no CD drive for the games, hence the fact that the PSP GO is 50 percent smaller and 40 percent lighter. I LIKE THAT. But others like Rob, fellow blogger :), would rather have a physical copy or get a digital copy with a physical copy as T.J. would want. I'm more easygoing (hence the favorite blogger :D) and I just like the fact that the digital copy will cost less than the physical copy. 
Although when it came to price, the retail is to be $250. $250 dollars for that? Seriously, the high end PSP 3000 with more hardware on it having the drive for physical copies is $170. There was no miniaturization of technology for the PSP, just a slid out keyboard. Yes I know the games will cost less, but it's kind of a pricey entry fee into the PSP world. 
Also, for me, having an exposed screen on a handheld unlike the DS makes me hesitate.